ABOUT US
GROUP OF COMPANIES
Swee Builders is a multidisciplinary engineering firm that offers fully integrated services for civil engineering works, infrastructure construction, building construction, oil and gas related infrastructure for petrochemical plants, biological plants, manufacturing plants as well as commissioning of new industry facilities.
We are registered with the Building and Construction Authority of Singapore (BCA) in the areas of general building, civil engineering, mechanical engineering, concrete repair, cable and pipe laying, road reinstatement, demolition, and landscaping works.
For nearly two decades, we have provided design and build expertise to leading players in the pharmaceutical, oil and gas sectors, construction and civil engineering projects within the private and public sectors.
Our clientele includes multinational corporations (MNCs) such as Glaxo SmithKline (GSK), Chevron Corporation, Dragages Singapore, Bayer, Mead Johnson, MSD Pharma, Jacobs Engineering etc. Within the public sector, we have completed projects for Public Utilities Board (PUB), Land Transport Authorities (LTA), Housing Development Board (HDB), National Parks Board (NParks), Jurong Town Corporation (JTC), Immigration and Checkpoints Authority (ICA), Defence Science and Technology Agency (DSTA) etc.
At Swee Builders, we pride ourselves in quality workmanship, ethical practice, service delivery and a constant pursuit towards innovation. Our commitment to upholding these values builds trust in clients who work with us, and still remains at the heart of what we do.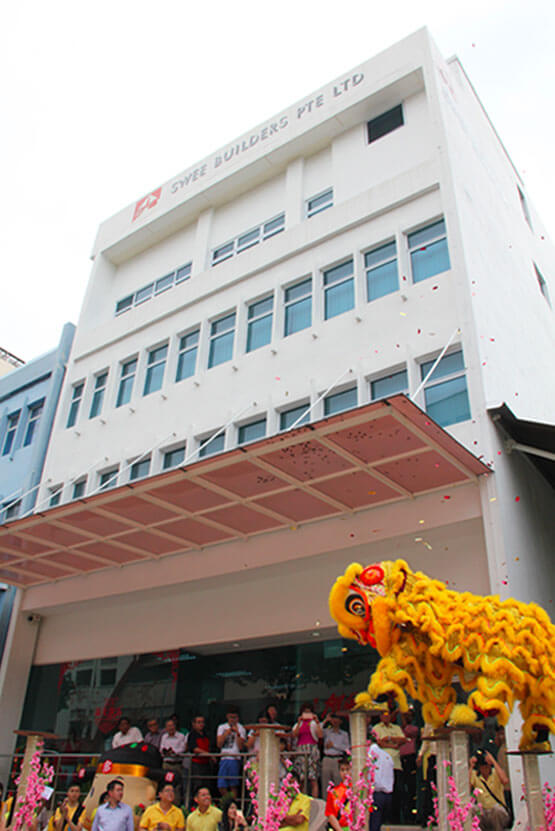 HISTORY AND MILESTONES
<! ========= Cool Timeline Free 1.3.2 =========>
History & Milestone
1998
Incorporation of Swee Builders Pte Ltd
The story of Swee Builders is one of survival, determination and triumph. Our Managing director, Mr Ong Swee Huat incorporated his company amidst the global economic recession of 1998.
1999
Swee Builders First Project
Installation of site access and drainage facilities for proposed restoration and redevelopment of Hotel Building at Fullerton Road.
2001
First Government Project with the Public Utilities Board (PUB)
Bedok Sewage Treatment Work and replacement of the underflow pipeline.
2003
First Pharmaceutical Plant Project with GlaxoSmithKline (GSK)
Demolition and modification of structural works of fine chemical plant.
2006
Secured Singapore First River Revitalisation Project
Swee Builders was selected as the main contractor for Singapore first river revitalisation project by National Parks Board, an Active, Beautiful and Clean (ABC) waters project in collaboration with Public Utilities Board. The project also won a Gold Award in Singapore Landscape Architecture Awards 2009.
2007
BS OHSAS 18001 Certification
2008
Swee Builders Pte Ltd was graded B1 under CW02 (Civil Engineering) by BCA.
2009
Incorporation of Swee Developments Ptd Ltd
BizSafe STAR Accreditation
2010
Procurement of Office Building (HQ)
19A Tannery Road Singapore 347731
2011
BizSafe Partner Accreditation
2013
Procurement of Dormitory
36 Kaki Bukit Crescent Singapore 416264 For investment and dormitory
2014
Year of Awards
− Awarded Singapore 100 SME of the Year in Building and Construction
− Ranked Top 25 Prestige Award of the Year
2015
BCA Green & Gracious Builder Award
Our dedication to building a better world for everyone with the highest ethical practices of our trade was recognised by the Building and Construction Authority (BCA).
First contract from Land Transport Authority (LTA)
Swee Builders expands its clientele base. Secured two contracts from LTA within the same year, for the provision of regular bridge maintenance, upgrading of bridges and infrastructure enhancement works.
2017
World Congress on Safety and Health at Work (Post-Congress Technical Visit)
Our commitment to maintaining zero workplace accidents was recognised regionally. On the 7th September 2017, our worksite was chosen by the Land Transport Authority (LTA) to showcase the safety measures and controls in highway maintenance and roadworks in Singapore to representatives from Hong Kong. A Post-Congress Technical Visit to Swee Builders was organised by the Hong Kong Occupational Safety & Health Council (OSHC), and jointly attended by representatives from the Land Transport Authority (LTA), Hong Kong Construction Industry Council (CIC), Health, Safety and Environment Office of Hong Kong University of Science and Technology (HKUST).
2017
Incorporation of Swee Projects Pte Ltd
Procurement of factory building
5 Third Lok Yang Singapore 628000
2018
Swee Builders celebrates its 20th anniversary.